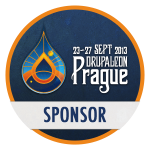 New Relic is in Prague for DrupalCon this week! We are looking forward to talking with you about the features and performance insights we provide with New Relic to give you the best possible performance monitoring solution.
Drupal Specific Insight
We have also developed lots of Drupal specific goodness. We enable you to track your slow-running Drupal hooks which are negatively impacting your site. We ensure you can track the performance of the SQL statements that have been generated out of your Drupal Views. With our Views monitoring you can see the aggregated impact of all those SQL statements as well as the Drupal module execution time. We provide the insight on which Views need attention for a better user experience. You can also track the performance of the Drupal modules themselves to help you identify any culprits in causing site slowness. More details can be found in our blog post towards the DrupalCon in Portland, Oregon earlier this year.
Even MORE Drupal Insight
So what have we crafted up for DrupalCon Prague? Cross Application Tracing (CAT) for Drupal applications!
New Relic's Cross Application Tracing feature allows you to see performance problems across site boundaries. This will help you identify performance problems between your own application (the "calling" app) and any internal or external services (the "called" app), such as traffic to internal services. A common example would be where your Drupal site is calling into another Drupal site. Or from your Drupal site into a Java, Ruby, Python, or .NET backend. Or where your mobile app is pulling data out of your Drupal site. The combinations are endless, but the point is that now we can serve your enterprise applications' performance monitoring needs more comprehensively.
Cross Application Tracing support tracks the external calls that are made within Drupal by using drupal_http_request() (latest release notes) as well as other common PHP request functions. So whether you are using a PHP application as part of a larger system or integrated with your mobile app offering, you can track the performance across applications.
Mobile, you say? New Relic provides performance insight there as well. Your mobile app users want to have a great experience and a key part of that is you developing and releasing a performant application…and then tracking that experience for your customers. We help you do just that for both iOS and Android.
To learn even more details on CAT please read the documentation and, if in Prague, come talk to us at the New Relic DrupalCon booth.
What's Next?
In Prague this week we are happy to discuss our upcoming release that will support the latest PHP release, version 5.5. We would appreciate your insight towards what you would love to have in performance tooling when Drupal 8 ships. Please come tell us about what Drupal developers need/want/crave to make New Relic even more useful, efficient, and targeted to diagnose problems and proactively find those performance bottlenecks.
So if you are at DrupalCon Prague come talk to us in person and see a demo or ask questions about how you are already using New Relic. But you don't have to be in Prague to try us out! Everyone has that opportunity with 30 days of free New Relic: newrelic.com/drupalConEU